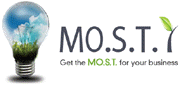 No system can be all things to all people. At MO.S.T. our philosophy is centered around providing a system that will not just duplicate what is already out there but innovate the way you do business.
Let us show you the MO.S.T. system to see if our design philosophy fits your company's needs.
We look forward to hearing from you so contact us if you have any questions or would like to schedule a guided tour.
Mobile Software Technology, LLC
5613 Sedgwick Lane
Springfield VA 22151
telephone / toll free:
(877)-667-8001
email: sales@mostfor.com
www.mostfor.com