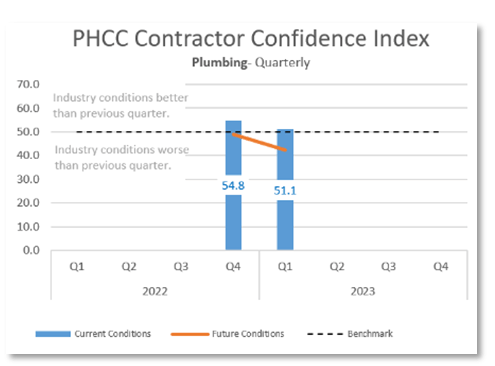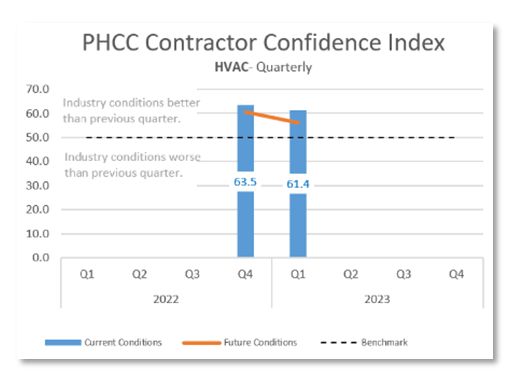 The top contractor challenges reported were:
operating short-staffed;
customers holding off on projects;
low call volumes;
too much work;
and new construction slowdown.
While roughly 70 percent of PHCC Contractor respondents anticipated normal to better sales in the future, 30 percent of respondents are not operating with a full staff, employees, and technicians. Double the number of respondents reported that customers are holding off on projects and replacements due to economic concerns — a significant increase when compared to fourth quarter results. 72 percent cited rising costs, and half of the respondents noted delays in shipping materials. The results were flat at 25 percent for those who indicated concerns about lower construction starts when compared to the last quarter.
Looking ahead, 73 percent of PHCC respondents are anticipating increased cost of doing business (parts, materials, labor), and most of those respondents are worried about an impeding recession, as well as continued challenges finding qualified employees and technicians.
The top three concerns for contractors over the next six months include the cost of health insurance, fear of recession, and increased (additional) insurance costs. Additional concerns were increased regulations, decreased construction starts, and cash flow.
"We are very pleased to unveil this first quarter 2023 Contractor Confidence Index that will help us determine the current sentiment of PHCC members," said PHCC—National Association President Dave Frame. "With access to this valuable information, our members will be able to track challenges and trends that affect their business, as well as maximize any business opportunities that are identified. And from an organization perspective, PHCC will be well-positioned to identify and develop programs and services that will meet our members' needs."
The PHCC Business Intelligence Department works to favorably position PHCC members and affiliates to achieve the highest level of market awareness, professionalism, leadership, and business profitability in the emerging and ever-changing built environment. Relevant resources are updated on a regular basis on the new PHCC Business Intelligence website: www.phccweb.org/business-intelligence.
Disclaimer: The PHCC Contractor Confidence Index (CCI) is based on a quarterly survey of PHCC members designed to take the pulse of the plumbing heating and cooling market. The survey asks respondents to rate market conditions for the present time and for the next six months. Survey results and the PHCC CCI were developed as a general sense of contractor sentiment and should not be used as a guaranteed indication of future performance of economic and industry performance. Many PHCC Contractors provide both plumbing and HVAC installation and service.
###
About PHCC
The PHCC National Association, formed in 1883, provides legislative advocacy, education, and training to approximately 3,500 plumbing and HVACR businesses and 65,000 technicians. Members of PHCC have access to a wide variety of services designed to increase their professionalism, grow their business, and improve profitability. For more information about PHCC, visit phccweb.org.