Introducing the Oxyset Mobile Brazing & Soldering System from
Ambro Controls.
Innovative - Lightweight - Ultra portable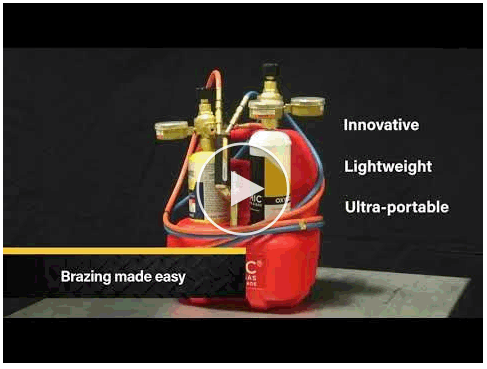 The Oxyset kit has is a pioneering product, designed specifically for gas & water system technicians. It is an easy to operate portable brazing system that uses disposable gas cylinders. The Oxyset is ideal for highly-mobile contractors or for working in hard-to-reach areas with the easy-carry cylinder stand. This kit is suitable for various applications using Oxygen and Map-ProTM including brazing, soldering and heating.
FOR HARD TO REACH LOCATIONS
If you have ever had to cart a full oxy-acetylene kit up a ladder, into an attic or roof or any hard to reach site, then you'll love this lightweight brazing system. The lightweight and small size of the Bromic Oxyset combined with excellent flame performance generated from pre-filled high pressure oxygen and Map//Pro fuel cylinders make it an ideal solution for working in tricky locations.

INCLUDES
KIT INCLUDES TRADE SPECIFICATION
MAP-Pro™ regulator with flow gauge
Oxygen regulator with content & pressure out gauge
Check valves for regulator end
6.5 ft twin hose assembly
Torch
2 nozzles
Spanner and flint sparker
Portable, lightweight & compact cylinder rack
Note: Cylinders not included
Story continues below ↓
---