Regal's Cross Reference Tool - How To Find HVAC ECM Motor Replacements.
Find a universal replacement for MILLIONS of Genteq® ECM motors (including models formerly branded GE®* or GE ECM by Regal Beloit) with just 1 click.


Replace constant torque and variable speed ECM indoor blower motors.
● Genteq X13 and Endura® Pro motors
● Genteq 2.3, Eon® and 3.0 motors
● GE 2.0 and 2.5 motors

ECM Made Easy™ to cross, install and get the job done!
CM REPLACEMENT MADE EASY
To find the correct replacement motor you will need to locate the model number on your Genteq (or formerly branded GE® or GE ECM by Regal Beloit) motor. The model number is located on the side of the motor. The motor may need to be removed from the unit to read the model number (See image).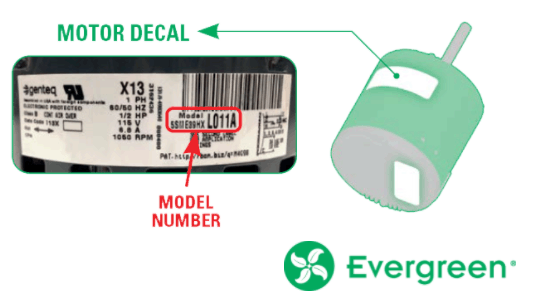 Story continues below ↓
---