KBE, Inc. releases the No Freeze Control, the first safety control of its kind for the HVACR industry.
KBE, Inc., announces a brand new product for the HVACR market. The No Freeze Control permanently stops the evaporator coil from freezing, while protecting other vital components from being damaged.


After years of research, development, and testing, here's how it works:
The No Freeze Control board is a printed circuit board designed to anticipate the freezing of the evaporator coil in the HVACR unit and interrupt power to the unit in order to prevent the evaporator coil from icing or freezing up. Once the evaporator coil temperature drops to 29°F the sensor that is connected to the evaporator coil u bend, alerts the No Freeze Control board.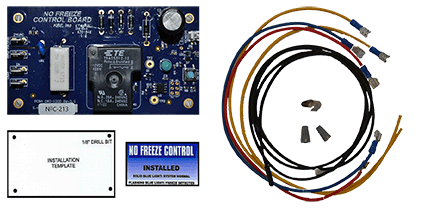 As a result, the No Freeze Control board interrupts power through the low voltage wiring connected to the condenser of the HVACR unit, shutting it down. The blue indicator light on the board will flash, indicating that the unit has been shut down as the result of the No Freeze Control board having anticipated the freezing up of the evaporator coil.
The unit will remain, without power and unfrozen, until it has been serviced by a licensed HVACR technician. After having serviced the unit, the technician presses the reset button to restore power to the HVACR unit, at which time the blue indicator light will cease flashing, becoming solid. The HVACR unit, having been serviced, will resume functioning as normal.

Story continues below ↓
---