Bard Manufacturing Introduces FUSION-TEC™ WALL-MOUNT:
The Next Generation of Innovation in Free Cooling.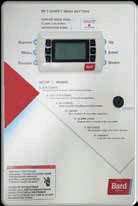 The Bard Manufacturing Company introduced their FUSION-TEC™ wall-mount combination DAC (Direct Air Control) economizer/air conditioner at the International Air-Conditioning, Heating, Refrigerating Exposition (AHR Expo), (#AHR2018).

"The FUSION-TEC innovation is a peak-efficiency economizer with an ultra-high efficiency air conditioning system wrapped around it, thereby maximizing free cooling opportunities," stated Paul Quigley, senior vice president of sales and marketing. "Our factory-installed DAC economizer is at the heart of the FUSION-TEC innovation. Our clients are shocked when they learn the FUSION-TEC shows them a constant superheat value, and notifies them if the condenser coil is dirty. The design is so rugged that it can run by itself in an orphan-mode if it ever loses contact with the indoor control."

The FUSION-TEC™ WALL-MOUNT maximizes free cooling opportunities through a counterflow/reverse airflow process. Productive outdoor air for free cooling is brought into the system from the lower portion of the chassis. The heat in the shelter/e-building is pushed up and out of the economizer exhaust at the top of the chassis — completely eliminating any possibility of recirculating hot exhaust. When outdoor air is inefficient for free cooling, the FUSION-TEC system utilizes a staged mechanical cooling system that operates at an IPLV of 15.7. And, the 2-stage compressor, variable speed blower and EEV, add precise cooling to match the load over a large range. This system is engineered to control both temperature and humidity.
Story continues below ↓
---