Who should take this course:
This course is designed for maintenance professionals who have a working understanding of motor drive systems and who want to learn how to better identify, diagnose and resolve electrical, electronic and mechanical issues. Participants taking the entire course will benefit the most if they also have a working understanding electrical theory and mechanical maintenance principles. The modules work best when taken together in sequence, but participants are welcome to select only the specific modules that interest them. To receive a completion certificate, participants must complete all three modules and pass the final test.


Prerequisites None*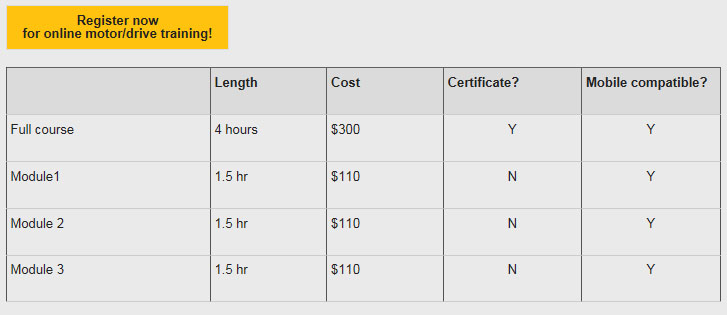 *The Motor and Drive Troubleshooting course introduction includes references to basic electrical theory, explanations, and other supporting resources or content contained in the free Fluke Electrical Measurement Safety online course. It is our recommendation that you start by completing the Electrical Measurement Safety course. A passing score is recommended, but not required to continue into this course.

This course is provided for informational purposes only. The contents of this course cannot substitute for proper training under and implementation of industry standards applicable to servicing and testing of electrical and mechanical equipment.

You must carefully review and follow OSHA, NFPA and other regulatory requirements, equipment manufacturers' instructions, and your company's safety procedures when conducting any testing or servicing of electrical and mechanical equipment.

The demonstrations in this course were performed by trained professionals in a controlled environment.

Do not attempt to induce an arc fault, arc flash, or any other condition that could potentially damage electrical test tools or equipment or otherwise create any increased risk of personal injury.
###