Siemens Partners with Silver Bullet to Offer Water Treatment for Cooling Towers.
The Silver Bullet Technology Helps Kill Harmful Bacteria, Remove Scale, and Control Corrosion.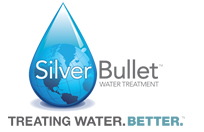 BUFFALO GROVE, Ill. — Siemens and Silver Bullet Water Treatment Co. have entered into an agreement that will help broaden Siemens' offerings of non-hazardous chemical water treatment solutions. Specifically, customers will be able to lease the Silver Bullet technology to treat cooling tower water.

Accounting for up to half of the average building's water usage, cooling towers are found in office buildings, hotels, data centers, and factories. They provide cooled water for air conditioning, manufacturing, and electric-power generation.

"Our customers understand the importance of maintaining the entire heating, ventilation, and air conditioning systems within their facilities," said Eric Koch, a national product manager for the Building Technologies Division at Siemens.

According to Koch, Siemens recently ran several tests at three of its customers' facilities to quantify the cooling tower water treatment claims made by Silver Bullet and to complement the existing tests already performed by the company. Siemens said the results were outstanding.

The Silver Bullet technology helps kill harmful bacteria, remove scale, and control corrosion. It also significantly reduces water, electricity, and chemical usage, lowers operating costs, and can help commercial and industrial buildings earn Leadership in Energy and Environmental Design (LEED) credits as well as municipal and tax rebates.
Story continues below ↓
---