Johnson Controls introduces TempMaster, new HVAC products for summer 2015 cooling season.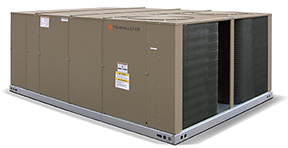 Advanced rooftop units and split systems will meet market's need for easy specification and configuration flexibility.
Johnson Controls introduces TempMaster®, a new light commercial HVAC product line delivering efficiency and reliability for easy specification during the 2015 cooling season. Manufactured in North America, TempMaster includes a variety of tonnages, fuel sources and configurations, and meets industry standards for efficiency and performance.
"TempMaster gives our local representatives an expanded product line card to offer building owners who have been asking for more options without needing multiple vendors," said Liz Haggerty, vice president and general manager, Unitary Products Group, Johnson Controls. "Building owners now have a single source to meet their HVAC needs this summer."
Story continues below ↓
---