5 Creative Ways To Motivate your HVAC Team to Perform Better
By interplaylearning.com

You already know that your HVAC techs are your most valuable asset when it comes
to keeping your customers happy. Without them, your business would grind to a halt.
There was a time when high-quality, trained, and experienced workers outnumbered
the jobs available. However, with an unprecedented number of seasoned HVAC
professionals quickly reaching retirement age, it is getting more and more difficult to
find and keep the very best technicians.

Once you find and invest in continuing education for your HVAC tech team, you also
face the risk of losing them to a competitor, or having them try to open their own
HVAC repair operation. It may not always be an option to simply keep paying them
more, so HVAC businesses need to find new and creative ways to motivate their
HVAC techs to keep working at peak performance, and more importantly, working for
you.

Here are the top 5 creative ways to motivate your HVAC team.

1. Get to Know Them
This may seem simple, but it is often overlooked. Today's HVAC techs are no longer
working just for a paycheck. They want to feel that they are a part of something and
that they are making a contribution in support of helping your HVAC company grow.
HVAC team managers who are attuned to this, take the time to get to know their team
to find ways to help these HVAC techs stay up to date on HVAC training and industry
trends. In a large organization, it may be difficult to spend quality time with every
single technician. However, it is possible to host lunches, dinners, and other social
gatherings to at least learn something about members of the staff. Even making an
effort to show that you care about them and value them as employees can go a long
way in keeping your entire team motivated, not just your HVAC tech team.

2. Get Out There
One of the best ways to keep your HVAC team motivated is to get a better
understanding of their work. Even if you worked your way up from an entry-level tech,
you might not fully understand the challenges today's teams face. Just spending a
little time in the field regularly will help you get a clearer picture of what your team is
dealing with and understand some ways you can make their jobs a little easier. Just
being out there is a great motivator as well. When technicians see the boss out in the
field with them, they see a manager that cares enough to invest time in them.


Story continues below ↓

---
---
3. Train, Train, Train
The very best technicians strive to constantly be better at their job. Whether they are
brand new entry-level employees looking to move up to more challenging work, or
seasoned techs determined to master the latest technological changes, great
employees want to continually expand and perfect their skill set. This a win-win for
managers. Well- trained employees are more knowledgeable and less error-prone.
And for technicians, being able to grow on the job keeps them motivated and more
committed to the company that has invested in them.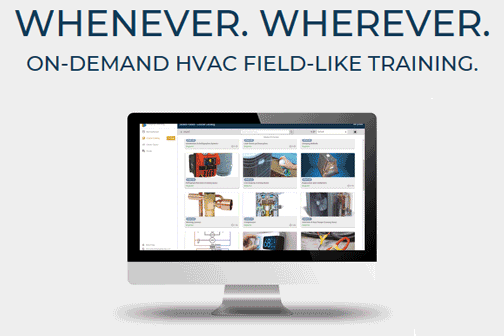 The thought of adopting more training may feel like an overwhelming cost burden to
some managers and business owners. With slimmer profit margins, there is less
money for training. Fortunately, technology now makes it possible to offer even better
instruction at a lower cost. With 3D video simulations and Virtual Reality enabled
troubleshooting courses, HVAC training, like that provided by Interplay Learning,
helps technicians at all levels to receive the specific training they need at a pace that
suits them. Not only is online HVAC Simulation Training more affordable, but it is also
more effective.
Traditional classroom learning isn't all that motivating (or fun). While techs want to
learn new skills, sitting in a classroom all day or pouring over manuals can be the
opposite of motivating. Now, with the rise of HVAC training online is not only more
engaging, but it also helps people learn faster. Placing a tech visually in a scenario is
not just a novelty, it helps them master and remember more efficiently.
Even better, it is a much more enjoyable way to receive training, especially for
younger techs who need it the most. And with online HVAC 3D Simulation Training,
technicians can complete their training wherever and whenever they want. These
days, online HVAC 3D Simulation Training also gives students access to the top
industry instructors. For technicians who wish to advance, this could be the best
motivation of all.
4. Inspire Them
There is a difference between motivation and inspiration. There are several things that
motivate employees. For some, they may be motivated by their paycheck or the
chance to work in a field they enjoy. Inspiration is different. It is about finding ways to
help your team reach for something bigger than themselves. It may be challenging to
think about inspiration for a technical field like HVAC, but it doesn't have to be.
Whether it is about taking the safety and comfort of your customers seriously, working
together to give back to the community, understanding the role each member plays as
part of a team, or connecting with each HVAC technician's desire to make a
difference, the best managers find ways to inspire their employees. And, inspired
workers are self-motivated workers.
5. Create Incentives
There are ways to create incentives for your team that go beyond
performance-related bonuses. You can also reward your HVAC techs for taking the
initiative to keep up with continuing education. These types of rewards can be
especially motivating, as today's employees are looking for more than just a
paycheck. They want to feel appreciated and confident in their abilities. Managers can
be creative in offering incentives that go beyond money. In fact, the first three ideas
on this list can be amplified by tying them to incentives.
How about the technician with the highest customer service scores for the week gets
to go to lunch with their manager?? What if the boss goes out in the field with the top
performing team and brings them breakfast? Or, since online HVAC training
technology now allows for the ability to track and measure employee progress, you tie
an incentive to measurable training benchmarks?
Takeaways for motivating your HVAC techs
Whether it is just getting to know your technicians, getting out in the field, offering
engaging, virtual reality enabled HVAC Training, helping techs find inspiration, or
creating incentives, consider using creative ways to motivate your HVAC team.
Keeping your employees motivated will help you attract and retain the very best
talent, which is always good for business.