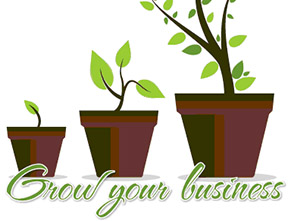 Are YOU ready to grow the commercial service portion of your contracting business or have you determined that there is an opportunity to develop a commercial service area? Maybe you have performed some light commercial/commercial industrial services and now want to know more about growth, profitability, leadership, planning and success factors for sustainable, high margin, profitable growth? Let's look at Five Success Factors or components to consider for commercial growth and profit…Culture, Systems, Organizational Structure, Operational Model, and the People Resource.
1. Our first success factor is a Culture that understands the importance of service and service agreement sales; planning, marketing, contracts, delivery and systems. Many contractors do not develop sufficient systems and processes that support commercial service, most importantly, service agreements and they lack a willingness to invest the time and resources in them (maintenance contracts). Planned maintenance is the foundation of a commercial service business. This can be summarized by saying "a professional marketing and sales culture is critical".
Incorporating suggestions and ideas from the entire service team is also extremely beneficial when discussing culture. A great culture is developed through involving or empowering employees to contribute to the plan, the marketing, the delivery mechanism, and — most importantly — the sale. Yes, this means more than just company meetings and a suggestion box; it's daily management of the people resources for servant attitudes and customer-focused relationships. It means scheduling frequent staff and management planning meetings as well as regular service technician get-togethers.
2. Systems and processes supporting sales, delivery, and measuring performance are imperative. As entrepreneur and business improvement champion Dave Ramsey says in his book 'EntreLeadership'; "If you want to create a company that is fun to work for, where productivity and creativity are high, and that you are actually glad to lead, you must create a culture of communication." Strong communication of systems and processes provides integration and implementation for clear understanding of expectations, thus, happy employees. A proven B2B sales process and marketing approach will help to supply the system, tools and collateral that speak directly to the pain, needs, and business objectives of the customer for selling commercial maintenance and projects, including energy services.
In order to set expectations and to reach sales objectives for selling commercial service agreements and then deliver on the correct maintenance tasking, we need proven systems and "checklists" or standard operating procedures, policies, and technologies. Systems can survive and work correctly only through an organization and operations area that have job descriptions and understanding of the needed "hats" to be worn or functions that need to be performed. Which leads us to our next success factor.