Unconditional performance starts with an unbeatable compressor.
The AquaEdge 19MV leverages proven EQUIDRIVE™ TWO-STAGE BACK-TO-BACK COMPRESSOR TECHNOLOGY – now with magnetic bearings – for high performance and reliability across a wide operating range while staying quiet and cool under pressure.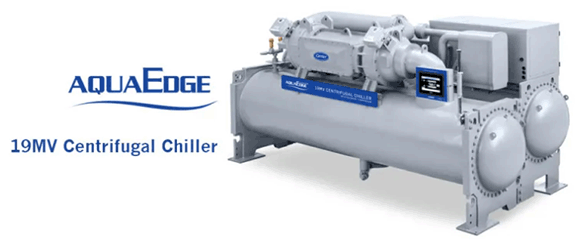 Revolutionary EquiDrive compression and drive train technology provides MORE OPERATING RANGE while maintaining best-in-segment efficiency at design conditions (MORe) for an improvement in both chiller energy efficiency and building resiliency.

Achieves <0.52 kW/Ton and <0.31 kW/Ton (IPLV) at AHRI conditions
Operating range of 40°F to 95°F entering condenser water down to 10% load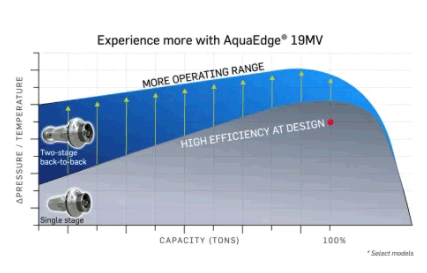 Energy is reduced due to better efficiency at common metrics such as full load, 75% load (the "lifecycle point") and Integrated Part Load Value (IPLV). Due to a wider operating range, including the ability to operate at virtually no lift, the AquaEdge 19MV can take full advantage of cold condenser water, chilled water reset and other energy-saving practices to further improve building performance.

In addition, building resiliency is significantly improved with its ability to operate with elevated condenser water temperatures at low and full load. This extended operating range (meaning it may go beyond the typical operating range) is a game-changing capability that provides building owners and facility managers confidence in reliable, efficient operation beyond specifications.