The Phantom Combi is the newest member to our Phantom line of stainless steel wall mounted condensing boilers. It is an energy efficient boiler with 95% AFUE that can not only heat your home, but also provide domestic hot water all from one boiler. Available in 3 sizes with heating and domestic hot water inputs up to 180 MBH and a 10:1 turndown, the Phantom Combi is one of our most versatile condensing boilers. A factory preset control system featuring a touch screen display with plain language guidance makes for quick and easy setup.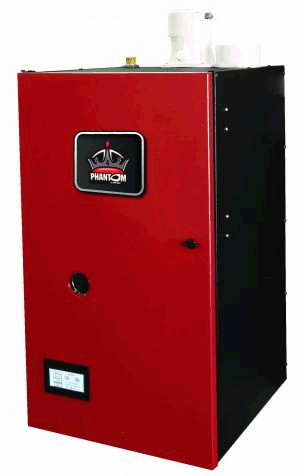 - 95% AFUE with 10:1 turndown.

- Reliable, proven stainless steel heat exchanger technology.

- Flat plate heat exchanger provides superb domestic hot water performance.

- Factory preset Honeywell Sola control system for out-of-the-box performance.

- Touch screen diagnostic display with plain-language guidance.

- FREE 5-year parts warranty included.

- Low NOx.

- Field Convertible to LP gas with optional kit.

Additional Built-in Features
- Universal boiler vent connection for polypropylene, CPVC/PVC & stainless steel.
- Outdoor reset and sensor.