HVAC contractors instantly know which customers require service via local, text and e-mail alerts; Ideal for efficiently managing field resources and maintenance contracts.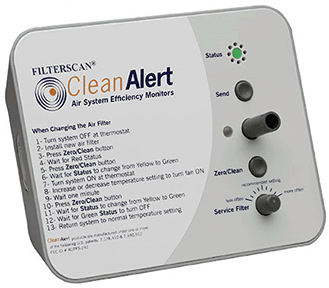 The new WiFi enabled FILTERSCAN® Air Filter Monitor from CleanAlert, notifies contractors and building operators via local, text and e-mail alerts when a filter needs servicing by measuring differential pressure changes in a HVAC system. By taking the guesswork out of servicing filters, the new monitor and WiFi Notification System will optimize filter life, while helping HVAC contractors, building owners and facility managers avoid higher energy bills, compromised air quality and costly repairs.

Introduced in 2012, the FILTERSCAN monitor can now communicate the status of air filters to a personal computer, tablet, or Smart phone via a cloud database server – ideal for HVAC contractors servicing multiple residential communities, apartment buildings or national and regional contracts.

Using patented differential pressure methods to actively gauge a filter's status, the monitor is easy to install and operate, functions with a wide variety of air filters, and is compatible with most residential, commercial, and industrial HVAC systems, including units with single or multi-speed blowers and most VAV (Variable Air Volume) systems. An optional wired output provides signaling to a remote building automation system controller.

"We know that a clogged air filter is the primary cause of HVAC equipment failure and that eight of every 10 filters are not changed at the appropriate time," says Terry L. Reavis, Vice President Sales & Marketing for CleanAlert, located in Oberlin, Ohio. "The question of when to service an air filter has vexed contractors, homeowners, and building managers for years and many users have resorted to servicing their filters according to a schedule. Unfortunately this approach can lead to lost revenue and unnecessary material costs when filters are serviced too often."




Ideal for both commercial and residential applications, the FILTERSCAN:

•automatically compensates for changes in system blower speed;

•can be installed upstream, downstream or differentially across a filter; and

•works with single-speed, multi-speed and most variable air volume (VAV) HVAC systems.

Measuring 6 inches x 4-5/8 inches x 1-1/2 inches, the FILTERSCAN unit incorporates an audible beeper and a green-yellow-red LED Status light to indicate various filter and system conditions. When the pressure across a filter has changed according to an industry accepted amount due to dirt build up The FILTERSCAN alerts that the air filter should be serviced. When connected to a remote device, such as a BAC or smart thermostat, the FILTERSCAN also provides a 5 VDC (volts of direct current) output or an optional relay (dry contact) output to indicate that filter servicing is required.

The FILTERSCAN recalibrates each time a clogged air filter is serviced. As a result, end users can change filter models as they wish without undermining clog-detection performance. While placement of the FILTERSCAN within the HVAC return airflow stream is flexible, the best results are found when the monitor is installed downstream between the filter and the blower fan.

"Users who wait too long to service a filter will allow pressure to build up in a system, thereby increasing energy costs and decreasing equipment life to support an inefficient system," explains CleanAlert's Reavis. "Installing the FILTERSCAN to monitor filters will eliminate this guesswork and ensure that the HVAC system is operating effectively, efficiently, and safely."

Learn more about FILTERSCAN call (888) 414-FLOW (3569) or visit cleanalert.com.