Powered by the impossible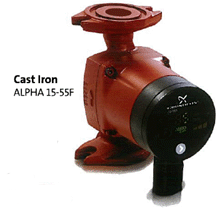 Grundfos is proud to introduce the next generation of energy efficient circulators - the Grundfos ALPHA. By incorporating a permanent magnet motor design, power consumption is now reduced by 50%. The Grundfos ALPHA adapts to the variable demands of the system without sacrificing comfort. Using the AutoAdapt feature, the Grundfos ALPHA will analyze the system and adjust to meet your heating demands.
AutoAdapt
> Measures system changes automatically
> Maximizes energy savings
Easy-to-use operation
> Select a mode with the touch of a button
> Easy-to-read LED display show flow and power consumption
Simple plug connections
> No wiring required
Low-energy
Energy labelling class C to A
Maintenance-free
Low-noise
Wide range.

| | |
| --- | --- |
| Flow, Q: | Max. 10 m3/h |
| Head, H: | Max. 12 m |
| Liquid temp.: | - 25°C to +110°C |
| Operat. pres.: | Max. 10 bar |




Circulation of hot or cold water in

Heating systems
Domestic hot water systems
Cooling and air-conditioning systems.

Automatic performance adjustment
Display of actual power consumption
Automatic Night SetBack
Simple installation - external plug for electrical connection
Single-speed or 2- or 3-speed performance adjustment
Twin-head versions.

BROCHURE

INSTALLATION
Grundfos ALPHA Circulator Pumps are in stock at Metropac and ready to ship to you today!
Metropac Industries
HVAC/R MASTER DISTRIBUTORS
10 Annette Road Foxboro, MA 02035
Phone: 800-852-4328 Fax: 508-698-3121
www.metropac.com